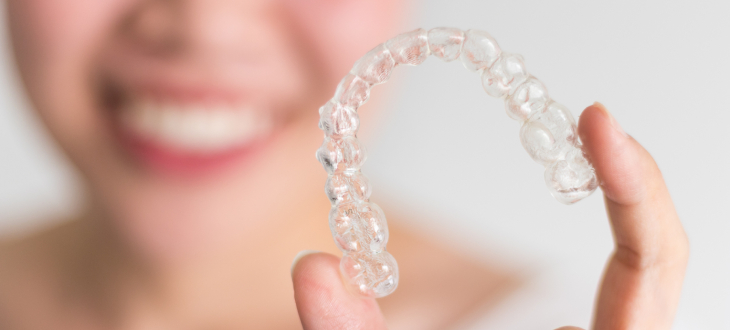 Did you know alignment issues impact about 70 percent of the U.S. population? Dr. Cohen and his staff work with many patients in Great Neck and Briarwood who are dealing with misaligned smiles and feel self-conscious about their crooked smiles or unusually spaced teeth. But misalignment extends beyond aesthetics and can actually impact your health. Individuals with misalignment are also more likely to encounter dental issues like decay, gum disease, jaw pain, headaches, and even tooth loss. Cohen Dental Care has extensive expertise in addressing a wide range of tooth alignment issues and can help individuals achieve a more attractive and healthy smile. 
For years, braces and retainers made from wire were the most reliable and prominent forms of methods for aligning teeth. Although effective, these approaches are often uncomfortable and unsightly, and, because of their intricate metal construction, old-fashioned braces make eating certain foods and cleaning teeth challenging. Braces also require frequent visits to the dentist for tightening and adjusting metal brackets. Aligners, on the other hand, are convenient, clear, and completely removable. You can even take them out when you eat, brush or floss, so they do not require dietary restrictions or prevent thorough dental cleaning.
How do aligners work?
Aligners, like traditional metal braces, exert pressure, moving teeth in the desired direction to adjust the crooked appearance of a patient's smile. The first step is getting a comprehensive picture of how your teeth are currently shaped and what you want them to look like after treatment is complete.
To help you make your decision, Dr. Cohen can show you a variety of before-and-after photos that provide examples of possible outcomes. After discussing your goals and the realities of your situation, the Cohen Dental Care team will take an impression of your teeth and send it to the lab where they will be used to create custom aligners out of a clear, durable, plastic material.
The aligners slip into your mouth in a way that's similar to a standard mouthguard. From that point forward, misaligned teeth will slowly move to fit the shape of the aligner. Over time, as your teeth shift, new aligners will be cast to help guide your teeth into more and more perfect alignment.
Who can get aligners?
By the time an individual has all of his or her adult teeth, we can have conversations about using aligners to reposition them. Aligners are great for teens and middle schoolers who want to tackle their smile early on without resorting to metal braces. Young adults prefer aligners over braces because they can be removed for special occasions, like prom, graduation, and sporting events.
Older adults also benefit from clear aligners and seek them out to avoid the distraction that comes with metal devices. They appreciate that they can wear aligners during the workday and into the evening with complete confidence since the aligners are nearly invisible. Clear aligners can provide you with a new confident smile at any age.
How effective are aligners?
Dr. Cohen will perform an examination to ensure aligners are a safe and effective treatment for you. Most individuals with gaps and alignment issues have excellent outcomes using aligners. The best part is that, while they are more comfortable and convenient than traditional braces, they are just as effective for most patients. Your specific situation and the extent of your misalignment will determine exactly how long you will need to wear your aligners, but most individuals confirm that the time investment is well worth the extraordinary results! To discuss the specifics of your particular case, set up a consultation with Dr. Cohen to discuss whether aligners are right for you.
Why choose Dr. Cohen?
Dr. Cohen's team members were selected to work in his offices because of their passion for helping others achieve dream smiles. Dr. Cohen has extensive experience helping patients throughout the New York area improve their smiles with the use of aligners. Dr. Cohen is a leading dental healthcare provider who earned his Doctor of Dental Surgery degree from New York University.
While developing his private practice in Briarwood, Dr. Cohen was also a member of the NYU Dental School faculty and taught clinical dentistry for years. When you walk into the clinic, you'll instantly feel welcome. Dr. Cohen's unique combination of quality care and kindness will convince you that you're in good hands.
Contact Cohen Dental Care To Make An Appointment for Aligners
If you're ready for a straighter smile, we're ready to lend a hand! Reach out today for more information about how aligners can fit into your life.