Patients seeking top-tier dental care have been coming to Dr. Behnam Cohen at Cohen Dental Care for over 25 years. He continues to practice in his original dental office in Briarwood, Queens on Mondays and Thursdays, but now also works out of a new, state-of-the-art office in Great Neck in Nassau County on Tuesdays and Fridays. Patients who see Dr. Cohen in either location have confidence in his comprehensive understanding of dentistry and his exceptionally broad range of dental and cosmetic skills.
More than that, they rely on his ability to communicate, keeping them comfortably well-informed about each and every procedure. This is not surprising since Dr. Cohen was a well-respected member of the NYU Dental School faculty for many years. His broad-based technical knowledge is evidenced not only by his advanced degrees in both surgical and prosthetic dentistry, but by the fact that he performs all general, cosmetic, periodontal, endodontic, and implant-related procedures himself.
Patient Testimonials
"Dr. Cohen operates a pofessional dental office with caring staff. I have been seeing Dr. Cohen for many years and appreciate how thorough and informative he is with each appointment."
"He's a great doctor great manners. Very gentle and caring. He does his job very carefully and always makes sure his patients are happy"
"Great professional dental care with a friendly office environment. Cohen Dental Care is also very convenient and accessible when traveling to and from NYC, located right next to the Briarwood E and F station!"
View All Testimonials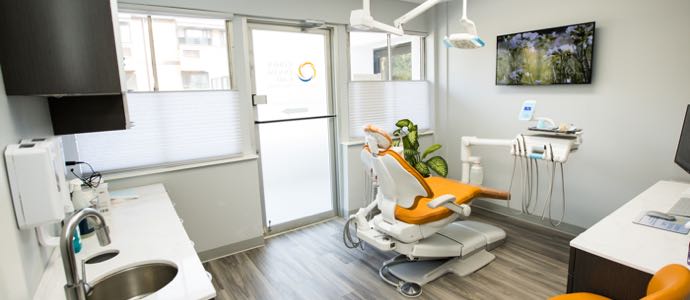 Two Cohen Dental Care Offices Offer One-Stop Shopping
Imagine the convenience of having one dentist who takes care of all your dental needs. Dr. Cohen detects dental problems, performs extractions and other dental surgeries, treats problems of the gum and diseases and injuries inside the tooth, does root canals, fits you with crowns, bridges, and clear aligners. In addition, he offers cosmetic services, administering dermal fillers like BOTOX® and Restylane® to clear wrinkles and add fullness to your skin and lips.
The innovative method of replacing lost teeth with dental implants, rather than bridgework or dentures, is increasingly popular. Because implants become permanent parts of your body, they look more natural, are easier to clean, last longer, and are more comfortable than removable tooth replacements. They also help preserve your own remaining bone structure for years to come. At Cohen Dental Care, both phases of dental implants are completed in one location.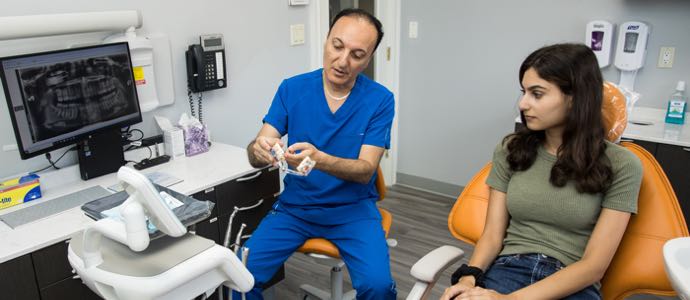 Regular visits to the dentist are necessary to keep your teeth healthy and to detect any incipient problems, like cavities or gum disease. During your initial visit to Dr. Cohen, you will undergo a complete examination of your teeth and gums, including a screening for oral cancer, and you will have a set of digital X-rays taken. In addition, your teeth will be given a thorough, professional cleaning. It's comforting to know that X-rays used at Cohen Dental Care, while providing superior image quality, are also extremely safe.
Other Routine Services Offered at Cohen Dental Care
Many of our patients require mouthguards, which we are happy to provide, either for protection during team sports activities or to protect teeth during teeth grinding. Dr. Cohen also regularly performs root canals and fits his patients with full or partial dentures. If you require dentures, you will be happy to know that we offer flexible partials as well as metal ones. Flexible dentures are both more comfortable and more cosmetically pleasing in appearance.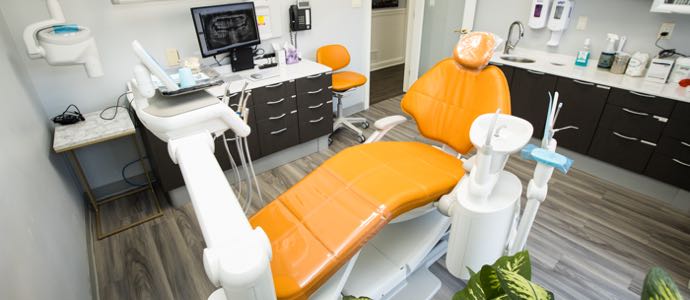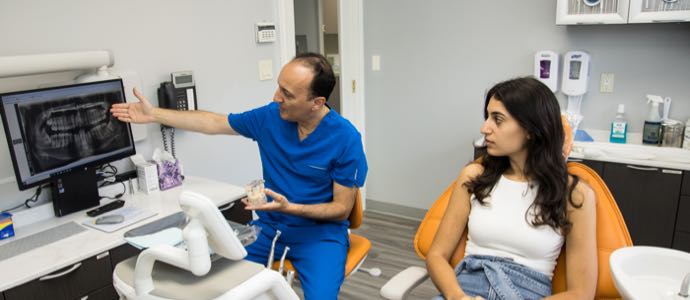 If Dr. Cohen finds signs of early stage gum disease, he will want to be proactive about getting it under control. If he finds the problem to be worsening, he will recommend an additional periodontal treatment: scaling and root planing. While scaling removes tartar (calculus) and plaque that attach to tooth surfaces below the gum line, root planing smooths the root surface and targets any remaining debris.
Contact Us Today
Cosmetic Dentistry
As those with missing, chipped, or badly discolored teeth know all too well, our teeth are central to the way others perceive us. Judgments, often unconscious ones, about our attractiveness, social and economic status, responsible behavior, and even intelligence are made on the basis of our smiles. This is one of the reasons Dr. Cohen takes his cosmetic dentistry very seriously. In order to help you present the best version of yourself to the world, he is adept at applying a number of cosmetic procedures, including:
Veneers
Veneers are thin shells of porcelain permanently bonded onto the outer layers of your natural teeth to improve their appearance. Veneers can visually correct:
Crooked teeth
Uneven spacing between teeth
Chipped or broken teeth
Discolored teeth
Porcelain Crowns
Porcelain Crowns, also known as caps, are permanently bonded to your own teeth. Porcelain crowns are aesthetically superior to crowns that are partly metal. Beyond positively impacting the appearance of your teeth, crowns can protect each tooth's physical integrity with a large filling or after a root canal and serve to hold a bridge or denture firmly in place.
Inlays and Onlays
Inlays and Onlays are used to restore large cavities or old amalgam fillings. Inlays and onlays are crafted to fit your individual tooth structure perfectly and are bonded in place using special bonding agents. They are created to match the shape, size, color and surface characteristics of your surrounding teeth. As a result they are much more aesthetically pleasing than silver fillings.
Teeth Whitening
As we age, our teeth may discolor from certain foods, drinks, and medications, as well as from age alone. They may also discolor due to tobacco use, genetics, some diseases or poor dental hygiene. Whatever the cause, discolored teeth can make you look and feel less attractive and vibrant.
Dr. Cohen offers different methods of teeth whitening to bring back his patients' bright smiles, including:
In-Office Bleaching
Take-home bleaching
BOTOX® and Restylane® To Smooth and Revitalize Facial Skin
Besides the broad spectrum of dental services Dr. Cohen provides, he also offers his patients the opportunity to complement their enhanced smiles with rejuvenated facial skin. By administering dermal fillers such as BOTOX® and Restylane®, he can diminish facial wrinkles and add youthful fullness to your skin. He can also use these fillers to plump your lips.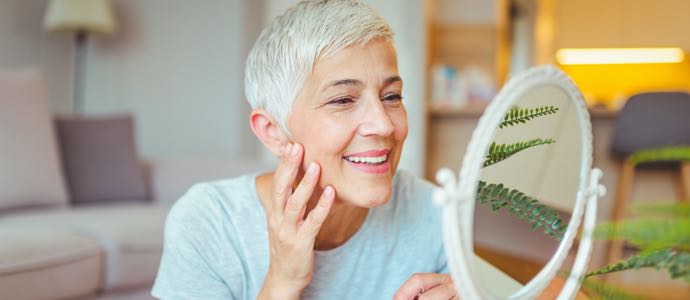 Contact Cohen Dental Care Where Self-Improvement Is Part of the Picture
We all need competent dentists to maintain good health and attractive smiles. When you choose Dr. Behnam Cohen, however, you get much more. Besides providing dental expertise in many specialized areas of dental healthcare, Dr. Behnam Cohen is a talented practitioner of cosmetic services, including the administration of dermal fillers. Contact one of our two conveniently located offices and make an appointment today.